Rik and Nik - The story so far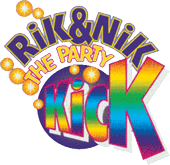 Click to access
The Party Dances
Rik Gaynor, comedy vocalist and Nik Martin, guitar vocalist first met in 1993 whilst rehearsing a summer show together.
They instantly became best of friends and developed a fantastic rapport with one another.
This was not the actual beginning of 'Rik & Nik - The Party Kick' as it is known today; this was to happen some 5 years later, when once again working together in a touring summer pantomime for Haven Holidays.
A lot of their time together was spent travelling on the road for long hours so, in order to keep themselves entertained they decided to write a party dance song.
The World Cup was on at the time so they decided upon the title, the 'Mexican Wave'. In just a few hours they had formed the basis of a song and decided to make a backing track and just for a laugh, set out to try the song at one of their own gigs.
At the time, Rik Gaynor was doing some 'one off' gigs at Flamingo Land. At the end of Rik's performance, he always used to finish with a few traditional party dances (i.e. Agadoo, Music Man). One particular night, Rik invited Nik on stage to perform with him a much unrehearsed 'Mexican Wave'.
The song went down a storm; the audience loved it! At the end of the night, people were seen leaving the venue still singing to the song and doing all the actions they had just learnt!
Rik & Nik then went on to perform special 'promo' gigs at Haven Holidays, but it quickly became very clear that one song just wasn't enough.  
They had to write another song and in order to keep up the momentum; it had to be done quickly!  This signalled the birth of 'The Caribbean Way'. 
It was at this point that Haven Holidays approached Rik & Nik, asking them to write an original song for their annual 'National Finals' competitions. 
They commissioned a brand new song for their mascot, Rory the Tiger, in the style of a Country and Western stomp. 
Rik & Nik wrote the song, entitled the 'Rory Stomp'; they even sang it live at the national finals with 40 line dancers backing them and Rory the Tiger on a bucking bronco!  Haven was so thrilled with the success of the song and invited Rik & Nik to write a complete album. 
Rik & Nik accepted the challenge of writing an album but decided not to make it exclusive to Haven but instead open to everyone. 
The highly popular first album was quickly followed by a second one. 
The second album included the hugely successful reworking of the world famous 'Purple People Eater', the introduction of 'The Finger Song' Highland Mix, the birth of 'Oodoo the Voodoo Man' and the creation of 'The Best Dance of All Time' to name but only a few.
By this time, Rik & Nik were becoming very popular indeed and hugely successful as both performers and song writers; so much in demand that they were literally 'torn in two'. 
They were asked to perform an 18 week tour of the UK. 
This, between the two of them would have proved impossible. It was therefore decided to split Rik & Nik into two teams. 
Rik teamed up with comedy vocalist, David Drewitt and Nik partnered vocalist and performer, Paul. 
After a fantastic summer season reaching out to thousands of fans, such high demand spelt the 'end of the road' for Rik & Nik performing together as both were pulled in different directions to write and produce songs and shows for numerous leading holiday parks. 
This was not the end of party dances though – not by far.  Rik went forward by joining forces with Scottish singing sensation and winner of Granada TV's 'Stars in their Eyes', Lauren Tilly. 
Together they formed spin-off 'Rik & Chick' and recorded 'Cartoon Heroes' and wrote and recorded the brand new original track 'We Can Make U Rock' which is the latest in a long list of Rik Gaynor's party dances to enjoy phenomenal success in the download charts. 
Rik and Nik still remain friends to this day and the party dances themselves show no signs of slowing down and are still being imaginably created by Rik, as a solo writer for a whole new generation of fans.
See below for the extensive list of great party dances written, produced or re-worked/covered by Rik Gaynor:
The Mexican Wave
The Caribbean Way
The Rory Stomp
The Purple People Eater
The Finger Song feat. Hayley
The Finger Song Highland Mix
The Finger Song Mega Mix
The Mexican Wave Megamix
Oodoo the Voodoo Man
Old King Kool
The Best Dance of All Time
Holiday Rockin'
Nobby No Mates
Simple Simon Sez
The Old Camp Fire
The Court of King Caractacus
Cartoon Heroes
We Can Make U Rock
Bonga Wonga Conga
The Mimic Man
Shakin' the Chicken
Agadoo
Y.M.C.A.
Combine Harvester
Chocolate (Choco Choco)
Superman
Revolution in Paradise
Supermarket Sweep
Bop with Freddy
I've Got A Friend That You All Know
Hypno the Meer Cat
Due to popular demand,
we have now made it
easier to access and
download some of our
classic party dances...

Click above to
Access all
The Party Dances
Once you have purchased either a track or the album, we want you to enjoy the material as much as possible and whenever you like on your pc or iplayer. However, for anyone thinking of reproducing, copying and selling or uploading to file share sites, emailing our material electronically and distributing in anyway whatsoever, please read the terms and conditions below regarding copyright and piracy.
* Copyright and Piracy
Piracy is illegal whatever country you are in. All songs by or associated with Rik Gaynor, Rik & Nik and Rik & Chick are worldwide copyright protected by MCPS/PRS and publishers CAS music. RGP Ltd are constantly checking and monitoring holiday venues both at home and abroad to stop piracy of our material. Anyone reproducing our material in anyway shape or form will face prosecution which could carry a prison sentence - it is that serious! We never sell the rights to any of our party dances period. We do however produce exclusive CD's and DVD's for businesses which contain our party dance material and offers them the right to 'use' the material with our express permission.